Lockout

Some attributes

First
Age 15
Second
height 5'6
Third
personality:Caring and Protective

Other attributes
Lockout is Flames best friend from ChildHood and Later his Wife.Her And Flame had  a close friendship on their home planet when they were children.When they reunited as teenagers,Their relationship  deepend into Marriage.
Lockout vs Eggsterminator
Edit
Lockout Was Fighting the eggsterminator before it Powered up and Beated her brutally for 20 minutes.battered and Bloody,She turned Into Her Fire Form and Killed the eggsterminator but soon after she dropped on the floor and tried to get up,But her leg was fatily Injured during the fight.She passed out and Didnt Wake Up Til Flame Found her and Started Panicking,She was taken Back to Flames House to where she Healed,Recovered and Woke up.
personality
Edit
Lockout is a friendly and caring hedgehog,mostly to her Husband,Flame.Lockout Understands Flames Personality because of how much she Knows  Him.she has been like this since her and flame met then Her and Flames Blossoming romance.
Like Flame,Lockout can run at high speeds,Lift up 7 million brontasauruses,Is Very strategic,and Has a durability two times of Supermans.She can also Manipulate Time,Space and Planets using Chaos Rise.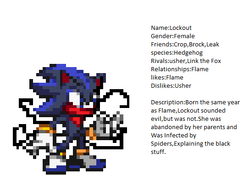 appearence
Edit
lockout has purple Stripes,Red skin and Purple eyes,Shoes and Eyebrows
As Flames Wife,She Wears A black Shirt and Purple Pants.
Brock
Leak
Crop
Flame(Husband)
Leaf
Usher
Relationships
Edit
Lockout Is comfortable with The Flamix Team.
Like Flame in childhood,They had the Same opinion when Brik told them They Were betrothed But Later Accepted It 8 months after.
The Two are so Close Lockout cant admit it to Flame.
A Strained Relationship
Lockout Does not know about the Rivalry between Flame and Azyre.